November 2003
Fray Cafe Cardiff: Venue Update!
Posted by Derek on Tuesday 18 November 03 @ 8:56AM
Breaking news from Cardiff! Melanie from the BBC reporting:
Chapter called today. There's a water leak in the studio and they don't have an alternative room for us. Apparently the problem is unlikely to be resolved this side of Christmas (a dispute between Chapter and the local council). But worry not, we have an alternative venue and it's a great place ....
The Exhibition Centre in the Old Library:
Trinity Street,
The Hayes,
Cardiff
(029) 2087 8451
So, if you had the old venue written down, make a note!
Fray Cafe Cardiff: Featured Performers
Posted by Derek on Tuesday 11 November 03 @ 3:22PM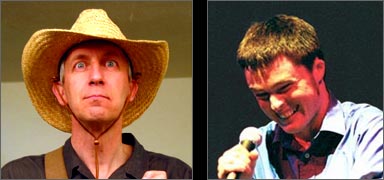 What do these two gentlemen have in common, besides extremely enigmatic facial expressions? They'll both be featured performers at Fray Cafe Cardiff!
Daniel Meadows (left) is a digital storyteller, photographer and teacher. He lectures in new media at the Centre for Journalism Studies, Cardiff University. He is currently on full-time secondment at BBC Cymru Wales, developing Digital Storytelling for broadcast television in the award-winning Capture Wales project.
Hailing from Dublin, Ireland, Tom Cosgrave (right) has traveled to San Francisco to perform at two Fray Days. The first story was about having good craic (it's an Irish thing), and the second story was about buying porn. This time, Tom will be a featured performer, and will talk about the time he met The Ignoramus. Tom runs Dublin Stories and its parent site The City Stories Project.
Fray Cafe Cardiff: A few details
Posted by Derek on Monday 3 November 03 @ 9:17PM
A few details on our next Fray event:
Tickets! Tickets for Fray Cafe Cardiff will be £5.00. They'll be available at the door on the night of the event.
International whatnow? Fray Cafe Cardiff is being presented in collaboration with the first-ever International Digital Storytelling Conference, which is sponsored by the BBC. Unfortunately, the conference is all booked up. But Fray Cafe is open to the public, as well as conference attendees. Come one, come all!
Get on stage! Fray events are all about you: In addition to the scheduled performers, you're invited to participate in the open mic! Just make sure the story you tell is true, personal, and under five minutes. Read the performance guidelines for more info.
Got any other questions? Ask away!