Hello, everybody – this is Geoffrey Long, editor of Inkblots Magazine and your host for Fray Day 7 DC! I hereby officially invite all frayers around our nation's capitol to join me in the newly-refinished upstairs room at Common Grounds in Arlington from 8 to 10PM on Friday, October 3rd for an evening of storytelling.
Want to see what the venue looks like?

From the stage: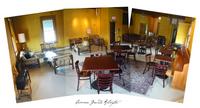 For directions, menus and other information, swing by commongroundsarlington.com. Hope to see you there!