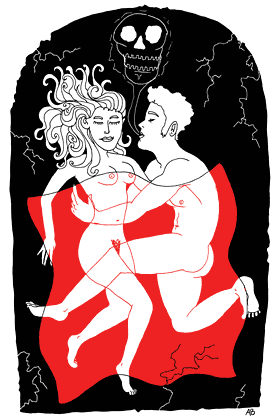 The phone is ringing and my mind is spinning out of control.
Ring ring.
And I'm thinking, I'm in the bathroom.
Ring ring.
I'm out to dinner.
Ring ring.
I'm in the lobby.
Ring ring.
Please stop.
Ring ring.
Please.
It's 2001. Heather and I have been together for a year, and we've discovered we have an exceptional talent for fighting. We'd both been dicked over in so many past relationships, we let nothing slide. The chips on our shoulders are the size of Buicks.
We'd saved it up for a good long while this time. Then, the night before I was going to leave for Poland, we found our perfect moment. She was cold and distant, and I pushed until she broke. She screamed. I screamed. That long strand of snot came yawning out of her nose as she sobbed.
I know that snot. That's the Really Big Fight Snot. That's the stuff that comes out when you're so angry you don't care how you look anymore.
I wanted to put my hand though a wall, but that would be too high school. Instead, I took a shower.
By the time she dropped me off at the airport, she was telling me how much she loved me. Fight cycle 101.
My plane rocketed into the sky. It couldn't go fast enough.
I'm on this trip to Poland because my dad has always wanted to go. Because his parents came from there. Because they ran from the Nazis. Because Hitler hated the Jews. Because a butterfly flapped its wings in France. I don't even remember anymore. I just knew I was going to Poland.
I met up with my dad and my stepmom, Barbara, in the Chicago airport. We scheduled our flights so that we'd have a few hours together at O'Hare before the big flight to Poland. I tried not to fall asleep in my pizza.
Lot flight 4 left half an hour late.
Skip ahead. We're in Treblinka. Here is where the Jews of Dobre were taken to be killed. Where most of my relatives died, along with eight hundred thousand other people. And all I can think about is Melina.
Melina is our Polish guide. Tall. Thin. Blonde. I'm walking past concrete slabs that symbolize death, rocks with names carved in them for the towns that people were taken from. There are seventeen thousand stones here, one for each person killed every day during Treblinka's prime.
And I'm thinking about licking chocolate off of Melina's belly. I'm thinking of eating strawberries from between her toes. I'm thinking of holding that blonde hair in my hands from behind.
"Here it is," she says stumbling on the rocks in her gold leather pumps. "I found the stone that says Dobre."
Maybe it was the fight with Heather that got me going. Maybe I'm using Melina as an excuse to avoid thinking about all the horror around me. Or maybe it's just that she's got one of those bodies that makes men want to do sticky dirty things.
In Stanislow, we find out that the Jewish cemetery has been turned into a garbage dump. In Dobre, a man yells at us in Polish that the Germans are to blame, not the Poles. As if it had been the Germans who moved into the Powazek house once my family had been taken away. The Germans who ratted out my family. The Germans who burned that barn.
Melina lost her cool and yelled at the old man in a semiautomatic blast of Polish.
Isn't she sweet, I thought. And look at those hips.
Skip ahead to the Warsaw Cemetery. Skip ahead to the Warsaw Uprising Memorial. Skip ahead to the enslavement, torture, and murder of Poland's Jewish population. Then skip ahead to 2001 to see my dad and his wife and his sex-crazed son, walking around Warsaw in the rain with Melina the supermodel guide.
Each place we visit has numbers. Seventeen thousand a day. Eight hundred thousand killed here. Six million killed total. As if the bigger the number, the more important the place, the more noble we get to feel.
I'm starting to feel like we're just emotional tourists on the historical atrocities circuit. And my dad and I, we can feel special because our ancestors died here. Almost all of them. All except for my grandparents and a sister and a brother. You missed us, you fucks.
Skip ahead to our last day in Warsaw. Melina is walking us back to our hotel. And I have those stupid kid butterflies in my stomach. And I'm thinking, I'd like nothing more than to touch this woman's body. To put my hands on either side of those perfect hips and bring them toward me. And I'm thinking, I should throw caution to the wind.
The next thing I know we're standing on a street corner and I'm whispering in her ear, "Wanna get together later?"
And she says, "Sure."
I'm in room 145, I tell her. Just ask for the unfaithful asshole at the counter.
We decide to take in one more atrocity before dinner, so we walk over to the Jewish History Museum.
Warsaw has an amazing Jewish heritage. Jews were here for years making art, writing books – doing all sorts of interesting things besides dying. But you walk into the Jewish History Museum in Warsaw and all you see is the ghetto.
The Warsaw ghetto, a perfect blueprint for how to dehumanize an entire race. The gallery is all black- and-white photos of hopeless people and dead bodies, swastikas and stars of David.
And I'm still thinking about Melina. I'm going to hold her ankles over her head. I'm going to make her scream so loud the neighbors will hear. And I'm going to do all these things to her so I do not have to think about all this fucking death around me or the horrible fights I have with my girlfriend.
My girlfriend.
Heather.
Damn.
Skip back to earlier in the day when we take a break from our walking tour of Warsaw in the rain for a beer in a little pub. We sit and talk and I'm thinking those sticky dirty thoughts with my dad sitting right next to me.
I excuse myself to the bathroom and notice the big red machine on the wall when I'm done. Three for two zlotys, and before I know it I'm going for my wallet.
I rationalize it by wondering what Polish condoms are like, but there's no fooling myself. I want to fuck Melina so badly I can taste it. I want to be lost in passion like I was with Heather before all the fights. I want to be lost in love so I can forget all this awful death.
The machine goes beep, and I shove the three-pack in my pocket.
We walk out of the museum, the emotional tourists, and my dad and Barbara stop for a hot dog. I keep walking, looking for something else. When I return, they're nowhere to be found.
Separated in Poland. Great. I walk back to the hotel and get a falafel on the way.
Back a the hotel, I knock on dad's door. He opens it and gives me a look I haven't seen since I was a teenager. "Can I talk to you in your room, please?"
And bang, I'm sixteen and he just caught me sneaking out. I'm thirteen and he just caught me with his Playboys. I'm eleven and he caught me lighting matches in the garage.
I'm twenty-eight and I ditched him at a hot dog stand in Poland.
I learned what to do in these situations a long time ago. Just apologize. And keep apologizing.
I do and his face turns red and he hugs me and begins to cry. And dammit, for the life of me, for the first time in days, I begin to feel something.
"It's just that," I say, "the museum," I say, "all that death," I say, and I almost mean it.
But what I'm thinking is, how can I be unfaithful to my girlfriend? How could I do that to her, after all the girlfriends who have done it to me?
And for a moment, we both cry.
Dad goes back to his room, and I pick up the phone and call Heather in San Francisco. It's nine hours earlier there. My day is spiraling into chaos and hers is just beginning. We talk about bullshit for ten minutes, then hang up. I was hoping for a sign. Something. Anything.
I lie on the bed like a corpse. Then the phone begins to ring. I know it's Melina. And I know what will happen if I answer.
Ring ring.
And I'm thinking, I'm in the bathroom.
Ring ring.
I'm out to dinner.
Ring ring.
I'm in the lobby.
Ring ring.
Please stop.
Ring ring.
Please.
…
Damn.