When I was 17, I had a 41-year-old boyfriend who lived three hours away. Mitchell and I had been together for months, but few knew about us. I mean, people knew, but in that Southern way where things aren't acknowledged.
I grew up on the Maury River and spent summers swinging off the banks on various ropeswings. September was when the water would turn cold, and ropeswing season came to a close. In addition to the bummer of having to go back to school, river time became a clothed activity toward the end of September. Plus, there was this green slime that gathered on the surface of the river near the banks. If you were hell-bent on getting on that swing, you had to earn your splash.
In Rockbridge County, Virginia, and probably beyond, there was a tradition that when you took your last jump, you brought the swing back and hooked it onto the tree for the next person. Driving up to a ropeswing and finding that rope in place was early proof to me that people are basically good, that it's possible for a civil society to be based on neighborly concern.
The week before, during a college admissions tour at Yale, I burst into tears, and told my mother about Mitchell. She surprised the crap out of me by agreeing that I should go to the University of Virginia so I could be close to him. Mitchell and I had exchanged teddy bears to tide us over between weekend visits. We wrote each other ten page letters on a daily basis. We were in love.
Understandably, Mitchell was terrified of running into my parents in my little hometown. What's the big deal? We're in love! But to many people looking at our relationship from the outside, I suppose it was a big deal. Lexington is not ancient Greece, I guess. I didn't understand why anyone would be bothered. But at the end of the day, I wasn't the one staring down the barrel of a statutory rape charge.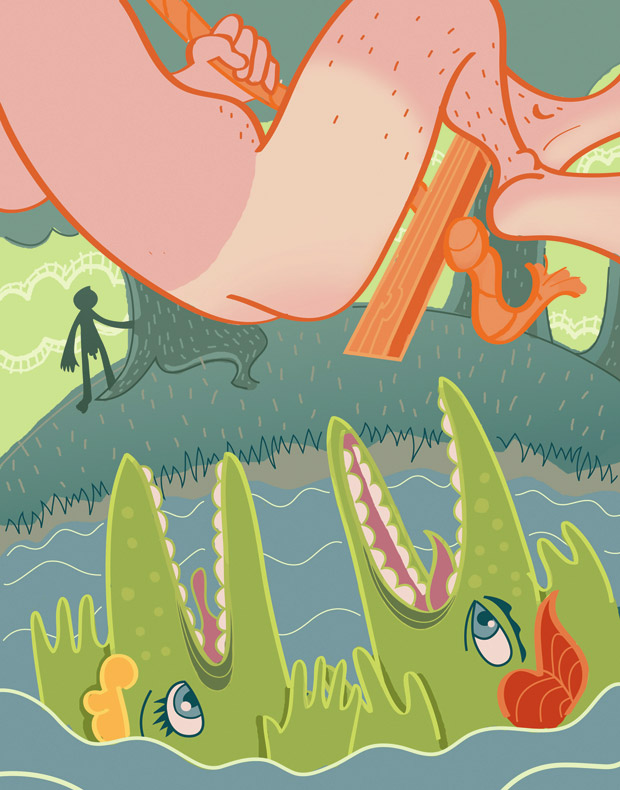 Mitchell was only visiting me because I told him that my parents were out of town. This was plausible, since my father traveled so much for his job. He and my mother often went out of town to go to Southern Conference track meets and retirement banquets for my father's Army buddies. Mitchell said he'd only come up for the day, which was just as well because the calendar in the kitchen said my parents would be home at seven.
We went to the river and parked. Alas, the rope was hanging in the middle of the river. Some country boy did not get the memo about river etiquette. I swam out to get it and brought it back. Mitchell didn't want to go in, but I talked him into it. "Don't stare too long at the river, or you'll back out," I told him. I'm an advocate of jumping into water straightaway. Easing your way in leaves too much wiggle room for abandoning your mission. Mitchell pulled himself up on the rope and jumped. He swung about half the way out, then plopped down. He let out a hybrid version of a grunt and squeal, then walked back up the bank. He was quivering from the cold water, and by the time he got back up to land, he was muddy up to his calves. The rest of him was covered in a thin layer of green algae.
"This is really fucking fun," he said, handing me the rope. He didn't seem to share my disappointment that ropeswing season was ending.
"Let's go home and take a shower," I said.
Mitchell resisted with all his might, but I persuaded him to come back to the house and shower. It was 5:30. We still had an hour and a half until my parents got home. We could take a quick shower and he'd be on his way home. Everything was fine, I told him. Don't worry.
We got in the upstairs shower and soaped each other up. Mitchell kept looking at the showerhead like it was a clock. I kept trying to calm him down. I mean, what did I have to lose? I was 17 years old, taking a shower with my boyfriend in rural Virginia. As far as I was concerned, life was good.
Just as I'd worked a big lather of shampoo into Mitchell's hair, we heard the dogs barking wildly. Mitchell switched off the water without even rinsing his hair. Sure enough, we heard the gravel in the driveway crunching under my mother's station wagon. I looked out the window – it was just Mom. This came as no relief to Mitchell, who grabbed his clothes and scurried down the steps and out the back door. We have a big backyard, so by the time Mom came inside, he'd barely reached the black walnut tree. Mom stood with me in the dining room, peering out the French doors. We watched Mitchell hauling ass through the yard with a full head of shampoo suds.
"Look at his little white tush!" she screamed, clapping and cackling. "Poor thing!"
For years, she teased him about the incident, careful to reassure him that he had a cute butt. Of all the reasons I love my mother, that ranks right up there.