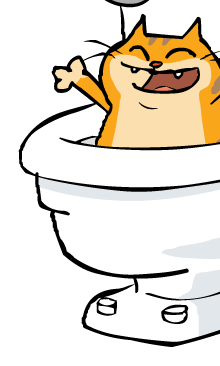 I have pissed on my cat. There. I said it. But it wasn't entirely my fault.
My cat, Paris, has a problem. Or maybe it's not a problem, per se, but more of an interest. A special interest. In me. More specifically, in my bathroom activities.
Maybe this is normal cat behavior. No other cat I have ever been around has exhibited it, and I want to attribute it to two unrelated things: One, the door to my bathroom has no latch so it will not stay closed if someone really, really wants to come in, and two, she's still just a kitten, more or less, doing kitten things like exploring her boundaries and showing curiosity about every fucking thing I am doing all the time unless she is asleep, in which case she wants to be asleep on me.
I know I haven't yet actually mentioned her behavior. That's because it reflects on me in some ways that I'm not entirely happy with sharing, yet I think the amusement factor overshadows my own embarrassment concerning some of the things that have gone on in my bathroom between my cat and me.
If I begin to take a leisurely piss, she comes a-runnin', because Paris likes to watch. It's always the same. I will be standing at the toilet holding my johnson and wondering if, this time, I can get away with taking a piss without the cat. However, almost immediately after the stream hits the water, she is there.
Sometimes, she knows where I'm headed and she'll sit between my feet, staring up at my willy, waiting for me to begin. I believe she thinks it's like some piece of clothing I own, or perhaps a dangly toy she should be able to play with. So I get a little pee-shy, look down at her looking up at me with her innocent yellow eyes, and finally begin.
This is when she hops up onto the toilet rim for a better view. So now I have a cat-sized moving target that I'm actively trying to avoid hitting. I'll lean forward, one hand against the wall behind the toilet and the other attempting to control the targeting aspects of taking a piss.
The penis is not a well-designed tool. It does some things very well, but given a target to hit (or avoid) of anything smaller than a foot in diameter, a guy's gonna splash. And the thing's pliable, and the causeway sometimes thins out or opens up, and the stream's suddenly going on the floor or the back of the toilet, up on the seat, on your own foot – honestly there's just no telling what's going to happen.