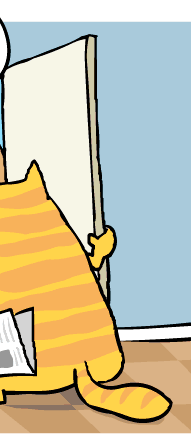 A coworker lived a few towns over, in a house that was the locus of much feral kitty action. Several families of cats ate from the bowls left out on the porch, and some left gifts in return. I went over one moonlit night and waited in the center of the manicured lawn. I felt like the virgin in the forest, waiting for the unicorn.
One by one, the kitties came. They sniffed, snuggled, and slunk off again, until finally the alpha male deigned to meet with me. He was six years old, and an enormous cat: 20 pounds in his stocking feet. The household had called him 'Bo, a.k.a. Rambo, for his fiercely muscled physique and his clearly virile nature. Of course he was much too dignified for that. That name may have worked in the suburbs, but he was moving to Berkeley. So he became Beauregard, after a favorite friend's favorite alias. Beauregard T. Rambunctious sat in my lap and purred, then looked me in the eye. He was ready to go home.
He climbed onto my shoulders and nestled there for the whole long ride home (and has never since seen the inside of a car, of his own volition). He kept very busy, killing rats and scaring roaches, and even eradicating a drunken neighbor or two from our doorstep. When he'd cleaned up the house, he patrolled the neighborhood like a furry vigilante.
A box of Burmese kittens turned up on the porch one day. They'd been a gift for the girls downstairs, who were too high to deal with them, but gosh weren't they cute. The box sat out there all day, and all the next morning. I wasn't sure what to do beyond food, water and blankets, but Beauregard knew: He brought them inside, one by one, and settled them on the sofa. He fostered them through their first several months, and taught them good kitty etiquette: how to eat and drink in turn, how to use the litter box, how and where to sleep. If he caught one on the dining table, he would bat it off, firmly but gently. The only time he ever really growled was when they broke into the butter dish. He was a good dad, in spite of his new reproductive status.
One day, as I sat on the sofa (in the same spot where the kittens slept), he started a game of chase with my very long braids. It was fun, but I was suiting up for a croquet game, so I pulled my braids over onto my shoulder.
The chase was on. Beauregard leapt over the back of the couch and landed in my lap. Where my hands were situated. Which was not what he had expected. He kicked off hard with his hind paws, quickly realizing his mistake. There was an enormous gash in my hand and an abysmal puncture through a vein in my wrist. I'd never seen my own blood gush quite like that, in rhythmic spurts. This was what I got for bending to the pressure of my croquet peers: my regulation white blouse was now pretty much red.
Beauregard mewled from under the table. He'd hurt his mommy.
The emergency room doctor asked if I'd been mauled by a big cat.
"Well," I said, "pretty much. But he felt really bad about it."