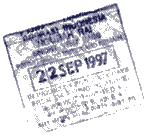 The man with the deep eyes filled with doubt midway through our relationship. We stood at an impasse. He didn't know what love was, wasn't sure that he loved me, didn't know what he wanted. I felt constantly nauseated and near tears, and we split up. He left on a 3000-mile road trip to Alaska. I considered my usual European refuges, visiting friends and riding trains, but knew I needed to look further.

At a bookstore, my eyes fell on the emerald green Rough Guide to Bali and Lombok. That would do. It was just about as far away as I could go – the other side of the globe – a 24 hour flight. Deciding not to make the trip alone, I invited one of my best girlfriends to join me. Though I was pensive and introspective throughout our journey, it healed me.

When I returned, I enjoyed another year with the deep-eyed man.