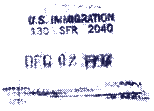 After we parted ways for the last time, I built voyages in my head. I invented an around-the-world itinerary to be taken all alone: fly to Europe, travel to Oslo and then the Lofotens – the tiny fishing islands near the Arctic Circle in Norway – slip down through Sweden, Finland, the Baltic States, visit Moscow, take the Trans-Siberian or Trans-Mongolian to Vladivostok or Beijing, travel south through China, make forays through Vietnam, Cambodia (if they weren't killing people who wear glasses), Thailand. Jump through Malaysia, Singapore, onto Flores, Kimoto, Bali, and then to Sydney.

I had no idea how much it would cost or how long it would take, but when I closed my eyes, I could feel the elation filling my chest again.

How fitting it is now that I'm in a new relationship with someone who's about to pull a geographic. He will fly to China to travel the Silk Route, leaving me alone to my life for two months. My first thought when he told me about his plans was to bolt. Should I move to Berlin? I wondered. What about Italy? I've always dreamt of living in a Tuscan villa.

But there's something I've gained from pulling all these geographics, from bolting the other way when things turn boring, or hard, or wrong. I've discovered the voyages I take when I stay still. For the last year, I've been at the same job, and I find myself growing in my career. I've not moved away from San Francisco, and the roots of my friendships reach deeper every day. The seasons shift, the scent of eucalyptus wafts across the Panhandle.

After 10 years of pulling geographics, I'm finally finding my own ground. And though it's travel that's given me this new-found clarity, my new home is in myself.
How far have you flown?