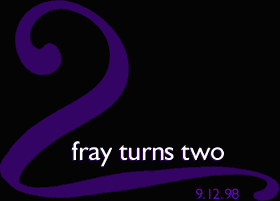 On 9.12.98, fray had its 2nd birthday party.
Gathered together in a small San Francisco warehouse were 150 people – many meeting for the first time – taking the storytelling out from behind the glass of our monitors.
I'd be lying if I said it didn't scare the shit out of me.
I've always believed that this monitor in front of me was a way to connect with other people – that's what inspires me about the web. But I've come to realize that it can also be a barrier, an unnecessary step in the telling of stories.
So on 9.12.98, among fray's friends and contributors, I did something I haven't done in a long time. I stepped onto a stage and told stories and played songs to a crowd of waiting eyes.
Then, one by one, others followed. The open mic lasted all night, as I'd hoped it would, filling the warehouse with stories and songs usally reserved for quiet bedrooms and computer screens.
In many ways, this was the real test of fray – to see if what we built here, from behind the safety of this glass, could survive out in the open.
Tonight fray got real.
So if you were at the party with me, I'd like you to take a moment to post and tell the world what you saw that night.
If you couldn't be there, think about the stories you've collected in the last year. They're the things that make you real. Tell one to us.
– Derek