My dad took a lazy road out of town while I counted flags hanging from awnings and jutting off car antennae. After about an hour, the car came to a crawl on a quiet, sun-baked street in one of the nondescript northern suburbs of Detroit. The street was like hundreds of others my father and I had crept down in the heyday of flag counting: post-war bungalows and colonials, New Englandy names. Arlington Way. Devonshire Rd.
Normally the smaller of these streets were canopied by tall maples and pines, planted to keep front yards cool during the oppressive Michigan summers. But this one was mostly bare, save one enormous pine at the end of the block whose branches hung over the sidewalk like the wings of a giant bird. My father parked the car under the tree, got out and pointed triumphantly to a low branch. Hanging off it was a large American flag, hanging limply in the windless afternoon.
"Did you count this one?" he asked.
I said sure and asked what was so special about it.
"Let me tell you a story," he said.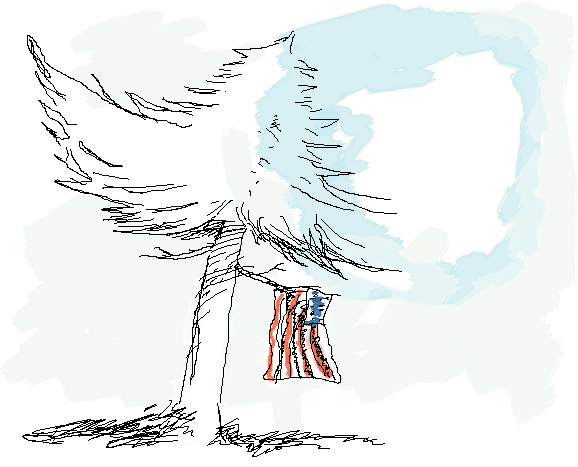 When my father was 16, he worked for his father, a house-builder, supplying homes for the rapid suburbanization of Detroit. One summer day, my father showed up for work at the street where we now stood. Otto, my grandfather's foreman, had already arrived and was scoping out the site for the final phase of construction: hedges to trim, driveways to smooth down. No sooner had my father parked his car when Otto, a grizzly bear of a man who didn't run for anyone, raced up to him.
"Your father just called. The building inspector is paying us a visit this morning. Unscheduled. I need you to find me a tree."