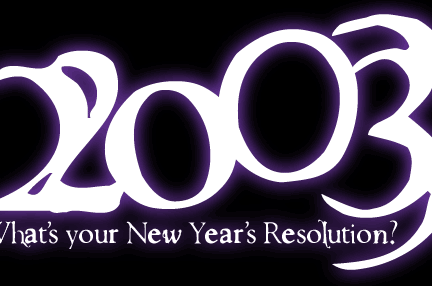 Here in the fray, we have a tradition of marking the new year with a question. We started by asking what your new year's resolution was in 1999. The next year, we asked where you were when Y2K struck. And in 2001, we collected stories from that chaotic year.
This year, we're going back to basics. With everything that's happened in 2002, this seems like a good time to reconnect, recalibrate, and reassess. New year's resolutions are more than a quaint tradition – they're one of the ways we find direction in our lives.
This is our one chance, all year, to set in stone what we want. For this brief, shining moment, the slate is clear, the possibilities are endless, and the universe is listening.
So what's your new year's resolution?
Happy new year,
– Derek
– 01.01.03