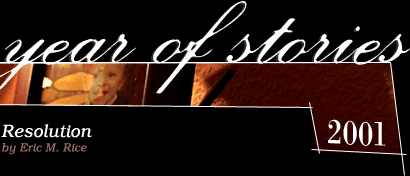 Crumpled wads of paper line my desk as I try to scrawl out a resolution for the new year. After all, it's December, and that's what I'm supposed to do, right? I'm supposed to sit down and reflect on the year gone by, looking ahead to the new goals and challenges. As much as I try, writing a resolution this December is fruitless.
The year started out great. The joy of my son being born shone a bright light over the early months of 2001. It gave me purpose. My days were filled with optimism and a routine normalcy that gave me the peace of mind to give this child a safe, solid beginning in life. But June brought the vaporization of my job, and with it the crumbling of my world of security.
Summer was filled with growing panic and letdowns. There were endless days of the phone not ringing. Newspapers screamed of economic doom. Pressures of friends and family surrounded me at every turn. Money started slipping away. Moods sank. Tempers were on edge. Like so many others in the same place as me, I wondered if I even had value as a human. Throughout the remainder of the year, I began to understand of the madness of desperate men.
December arrived, bringing festivities that should distract a person from the perils of life. The month is ripe with false smiles and the burden of its 11 brothers and sisters. I'm filled with an empty holiday spirit and yet I manage to mask it with a facade of forced charm and phony strength. Those around me, concerned about my well-being, admire my resolve, which, like beauty, is only skin deep.
Still, I feel I have to write at just one resolution. I need to write something to give me a shred of hope and optimism for 2002. The way I see it, things are only going to get worse.
Then I hear the cry of my toddler son, now 1 year old, who immediately stops and smiles when I appear to comfort him. And then it hits me.
I've had a luxury not many people have – seeing every tooth, and sharing every diaper change and feeding. Every waking second, I've been witness to his growing, crawling, and walking. That's something no amount of money, no dream job, or any level of mental anguish can replace. For the past seven months, I have had uninterrupted time to watch a new human grow, eager for the safety I provide in his big, new world.
Maybe I don't need to go back to that desk covered in failed attempts at writing a resolution. Maybe some things are fine just the way they are.
How was your December?