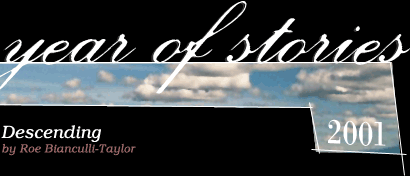 I'd completely forgotten about our anniversary until we began the descent to LaGuardia Airport. All of the other recent world events had pushed it from my mind. They had, in fact, taken over my brain and made everything else seem utterly insignificant.
We hit some turbulence, and Michael and I held hands. Both of us were nervous flyers, and now were even more so. Staring at our hands, the glint of my wedding ring caught my eye, and I suddenly realized what day it was. The next day would be our wedding anniversary – we'd actually made it through one whole year together.
I kissed Michael's cheek, watched the clouds and the approaching city lights, and thought about how happy I was to be married to him. How grateful that he'd been there for me through this incredibly trying year. And how utterly amazed I was that we'd made it this far – that we'd even taken the step and made the commitment at all.
When we first started dating, our relationship was more turbulent than the plane. Once, during a long-distance drive from New York to Florida, we broke up and got back together no fewer than six times. Our friends across the East Coast kept score in between our phone calls from the road. "Are you guys together right now?"
Our plane banked and bumped us again. I caught Michael checking my seatbelt, as I was checking his. Each of us making sure the other was as safe as could be, just as a married couple should.
As our plane began its final descent, I gave him a kiss and thought about our future. We held each other's hands, gripping so hard my wedding ring dug into my finger.
I didn't mind at all.
How was your September?