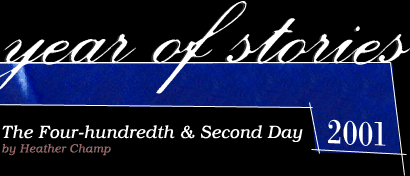 Four hundred and two. That's how many days it'd been since I moved from Montreal to San Francisco, since I left my Chihuahuas behind in the capable hands of a friend.
Leaving them hadn't been my intention, but I'd moved during the peak of the boom. Peaks are wonderful for landlords as they reap the benefits of having a gazillion people line up for the slim chance of renting even the most impossible apartment. On the other hand, peaks are a disaster for renters who smoke or choose to encumber their lives with furry or feathered friends.
Things change. The passage of time can flatten peaks, burst bubbles, and soften even the hardest housing market. And so, four hundred and two days later, I found myself eagerly anticipating the arrival of Air Canada Flight 757 at Terminal 1 of the San Francisco International Airport.
It was déjà vu all over again. I'd found my dogs online. One through a mailing list and the other through animal rescue. Both had come from other cities, and their arrivals had both found me standing in airports waiting.
Tigger, aka Canadian Champion Tiny Mite's Tanner, was my first, arriving sight unseen in New York, via puddle jumper from Buffalo. The discovery of his luxating patella had cut short his much anticipated post-show career as a stud. I pulled all five pounds of him from the crate during the drive back to the city and immediately fell in love.
Chihuahuas are like tattoos – you can never have just one. So next came Chieka. Her flight from Moncton to Montreal connected through Halifax and her crate got lost in the shuffle of delayed flights. My strongest memory of her arrival is a tense standoff with the cargo crew.
"I'm not leaving until I have my dog."
Never argue the owners of small dogs. You won't win.
The four-hundredth and second day dawned bright and clear, as days tend to do here in early May. I was to be reunited with my pups that day, and I could hardly contain my excitement. Derek drove me to the airport, since I probably would have driven myself into a ditch. We parked on the top of the parking garage and made our way down the terminal.
Standing at the gate, almost vibrating with joy, I realized that I'd always felt like I'd left part of myself behind in Canada. I was ready to fill the hole in my heart.
How was your May?