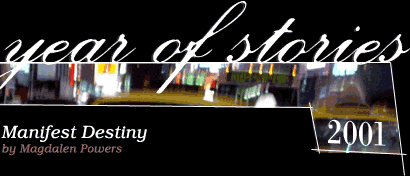 February was the third month of a six-month-long winter that began with a pink slip and ended with softball: from palm trees to castles to Central Park. Spring came like punctuation: commas of crocus, semicolons of sun. February was waking from one dream into another: the end of my West Coast growing up, of my European interlude; the beginning of my New York.
February was a one-way plane ticket to a small series of couches, a longer series of un-replied-to resumes. An infancy: peering out through eyes whose focus is hard-won, whose mind makes up connections as it goes along. Invents them. Invents the world around.
February was awe, claustrophobia, misery, elation. Loneliness, abandonment, self-imposed exile. February was coming to rest on a perch the width and height of which could only be guessed at, is still being defined.
February was disbelief in numbers: buildings, population densities, area codes. February was a cell phone and a post office box; a pocket mirror, a signal fire and SOS spelled out in shells, but not particularly wanting to be found.
February was cobblers and dry cleaners and friends and friends-of-friends. February was breathless, wet and cold. Dreaming of orange tulips and countries left behind.
February was sunset past a sublet living room, shining off the Roosevelt Island tram on its little red journey across the East River. February was walking under truck trailers at the Bloomingdale's loading dock at 2 in the morning: that kind of ridiculous optimism.
February was hope. It will be again.
How was your February?