November 2004
Fray Day 8 New Haven: New Haven Recap
Posted by Artspace on Sunday 28 November 04 @ 7:13PM   1 Comments
Our event this year was even better than last year!
Artspace hosted our event again this year,which allowed us to draw a crowd from both literary and visual arts circles. The space we used in the front portion of the Artspace gallery faces the busy corner of Crown and Orange street and is made mostly of metal and glass. Curious passersby stopped to spy at us through the windows as the night went on. From the street it actually looked quite cozy, a semi-circle of chairs in several rows filled with people of all ages. A storyteller plotted in front of a giant pastel abstract, and bathed from overhead by two halogen spotlights.
We had great performers, many of whom are breaking away from the page and adapting flavorful storytelling styles! We were suprised by a gentleman named Bill Graustein who offered to connect us with other storytellers in town and possibly host workshops in the future. I'd alos like to include singer songwriters in next year's event.
The Elm City Story Circle, a local writers group, was out in strong force. Getting to hear true stories made it even more interesting, since we often meet and share under fictional circumstances. I was won over by my friends, through thier honesty and insight, some of whom now I have become a dedicated fan. I felt we were all allowed a better glimpse of one anothers perceptions and personalities, which makes it easier to define what portions of ourselves carry into our other written work.
Story topics included: discovering sexuality at the Rocky Horror Picture Show, going undercover to the Republican Ntl. Convention, and getting rid of an unsavory college roomate...
PHOTOS TO COME.....
Best to all who participated in New Haven and beyond!
-jennd
Fray Day 8 Fredericksburg: Until Next Year!
Posted by Fowlkes on Sunday 21 November 04 @ 2:45PM   1 Comments
Fray Day 8 Fredericksburg was a lot of fun. I hope all those who attended enjoyed the night. We managed to break every one of Derek's rules and nearly all of my addendums, but I think the experience was the better for it.
I decided ahead of time that I wasn't going to record the event in any way -- not video, audio, or stills. I think it distracts from the experience of being there and causes one to assume a mental distance. I was happy to see that no one else had brought cameras. Those of you who weren't there will just have to show up next year!
I have already found a venue for Fray Day 9 Fredericksburg which features a stage, a sound system, and softer lighting. Someone else might need to handle the promotion, though. See you next year!
Fray Day 8 Milwaukee: Featured Performers Announced
Posted by Krutzik on Saturday 20 November 04 @ 8:20AM
Milwaukee's first ever Fray Day will include music from acoustic duo Beautiful Pollution and stories from last year's Mrs. Wisconsin, a Milwaukee jazz singer, a well-known former drag queen, and more. It all takes place Dec. 1 at 7:30 p.m. at the Art Bar.
Judging from the storytellers' backgrounds, Milwaukee's Fray Day promises to be a memorable event.
Adekola Adedapo is an educator, storyteller, and jazz singer who's performed with Berkeley Fudge and Von Freeman.
Kimberley Motley is an attorney in the Racine public defender's office, a wife and mother of two, and last year's Mrs. Wisconsin.
Bjorn Nasett is a hairstylist at Beauty, but he's probably better known for his years as the legendary drag queen B.J. Daniels.
Renato Umali writes the music for Milwaukee's found-text band, The Paragraphs. His meticulous journaling, largely in the form of statistics and lists, will be featured in the upcoming book "Drawing From Life: The Art of the Journal" by Jennifer New.
Jon Anne Willow is the editor of Vital Source Magazine and co-owner of the Bremen Cafe in Riverwest.
Beautiful Pollution plays at 7:30; featured storytellers start at 8:30; the storytelling open mic starts at 9:30.
Come check it out at the Art Bar (722 E. Burleigh St)!
Fray Day 8 Dallas: Recap
Posted by Daniel on Friday 19 November 04 @ 9:45AM
Fray Day 8 Dallas went off with varying degrees of chaos and cacophony. Rainy day, small crowd, but a small space to begin with so it worked out.
Andrea of The Happy Bullets wrote about it:
Fray Day at IR Gallery on Saturday was fantastic. We kept our set short and sweet as too give more time to the storytellers. The stories were emotional, funny, interesting, and personal. I really enjoyed the intimacy of the whole thing because it was the exact atmosphere that I fantasize about sometimes at parties. Not like those cheesy games that people play at gatherings like showers, etc., I hate those...
Fray Day 8 Fredericksburg: Directions
Posted by Fowlkes on Thursday 18 November 04 @ 4:18PM
To get to Fray Day 8 Fredericksburg, to be held in Combs Hall room 111 on the campus of the University of Mary Washington:
* Take I95 to exit #130A.
- Pass under US-1 overpass.
* Turn L onto VA-3 BUS.
* Turn L onto College Ave.
* Turn R through big stone gates.
* Combs Hall is on the R, the right-most building of the three arranged around the green.
There is some small amount of parking on campus once you pass through the stone gates. You may have to park along College Ave. or one of the side-streets immediately off of it.
Fray Day 8 Central Florida: Wrap-up.
Posted by Andy on Thursday 18 November 04 @ 1:28PM
All went well in here in DeLand, where we had a solid crowd for more than two hours worth of stories. Thanks to the 20+ people who got up to share their own stories, and to everyone who attended.
Fray Day 8 DC: DC's Fray Day a Smashing Success
Posted by Tiffany on Wednesday 17 November 04 @ 8:35PM
Fray Day DC was a splendid event, drawing a lot of new faces and some familiar ones as well. We packed into Love Cafe, drowned out the knitting club in the back, and had a great time. Many thanks to all who came, all who shared stories, and to Warren Brown for letting us take up all that space in his cafe for the evening.
Didn't get enough Fray Day tonight? Be sure to head out to Fray Day Fredericksburg on Saturday for more.
Fray Day 8 San Francisco: Fray in the news
Posted by Derek on Wednesday 17 November 04 @ 10:56AM
Beth Lisick penned a great writeup of Fray Day 8 SF in her recent Buzztown column (third item). She just forgot to mention how great her story was!
Fray Day 8 Central Florida: We're in the news.
Posted by Andy on Monday 15 November 04 @ 11:24AM
With DeLand gearing up for Fray Day Central Florida tomorrow evening, the Daytona Beach newspaper wrote about us (fourth item). We'll look forward to seeing all of our Daytona Beach -- and Central Florida -- neighbors tomorrow night.
Fray Day 8 Tucson: Tucson Fray now at Wilde Playhouse Dec. 2nd
Posted by Warner on Monday 15 November 04 @ 9:55AM
Tucson's own Fray Day will be happening Dec. 2nd at Wilde Playhouse (135 E. Congress, downtown) from 9 pm - 12 am. We are having a volunteers meeting this week, e-mail warner@tucsonunderground.com for details.
-warner
Fray Day 8 San Francisco: Photos!
Posted by Derek on Sunday 14 November 04 @ 3:27PM
Thanks to Charlene Wright, we've got some photos of last night's San Francisco event. Take a look!
Fray Day 8 San Francisco: Best Fray Day Yet!
Posted by Derek on Sunday 14 November 04 @ 1:53AM
Fray Day 8 SF was AWESOME. We had songs about bus boys and mad crazy beatboxing, stories of marriages, manic bananas, bizarro family dinners, sharks underfoot, beauty queens, NYC subways, wild vegetarianism, and sacrilegious deliverance. All that in a new venue with a kickass sound system and support that can't be beat. I can safely say that this was the best SF event ever.
Stay tuned for photos and audio.
Continue reading "Best Fray Day Yet!" »
Fray Day 8 Madrid: The Secret Fray Day: Madrid
Posted by Shmuel on Saturday 13 November 04 @ 5:34PM
The least known Fray Day on earth this year was Fray Day Madrid. Due to the interference of life-in-general I was unable to commit the same amount of energy to the first Fray Day in Madrid (the first in Spain even) as I was to the first event in Grand Rapids, Michigan four years ago. Wow! Has it really been that long?
Anyhow, this year's event was an English speaking event (still getting my Spanish up to par before I go bilingual) in a small and cozy cafe called J&J Books & Coffee. By far the most intimate Fray Day I have been apart of this event focused on the stories above all. It was very well received by an audience that included Spaniards, Americans, Brits and possibly some Canadians.
We had a good time having a beer and sharing stories in a room filled with bookshelves, candles, and friends from all over Madrid and the world.
Fray Day 8 San Francisco: Fray Day is tomorrow!
Posted by Derek on Friday 12 November 04 @ 12:16AM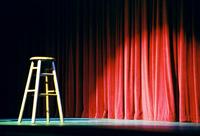 The 8th annual Fray Day hits San Francisco tomorrow, Saturday, Nov. 13! Join us at the Swedish American Hall (2174 Market Street, above Cafe Du Nord) at 7pm for music from beatboxer Kid Beyond and songwriter Goh Nakamura, and tantalizing personal stories by Jack Boulware, Beth Lisick, Kirk Read, and Kevin Smokler.
And you're invited to join the fray with a 5-minute true story of your own. If you'd like to sign up for the open mic, be sure to read the guidelines and show up early! Signups will only be taken from 7-8pm.
See you tomorrow!
Fray Day 8 New Haven: Featured Performers
Posted by Artspace on Wednesday 10 November 04 @ 7:54PM
We've got a great line up of local writers this year.
Fray Day 8 New Haven is officially under way. We will be kicking off at 5 p.m. on Nov. 14th at Artspace (50 Orange Street) in Downtown New Haven.
This years performers include: Tanya Andrasko, Jennifer Dauphinais, Burke Gerstenschlager, Craig Gilbert, Larissa Hall, and Becky Rodia, followed by an open mic open to any one with a true story to tell. There will be a five minute time limit per storyteller.
Hope to see you there!
Fray Day 8 San Francisco: More Featured Performers!
Posted by Derek on Wednesday 10 November 04 @ 11:46AM
More featured performers have signed on to tell stories at Fray Day this Saturday!
Kirk Read, author of "How I Learned to Snap," a memoir about being openly gay in a small southern high school, and host of the Smack Dab open mic series.
Beth Lisick, Frayer, author of "This Too Can Be Yours" and "Monkey Girl," SF Gate columnist, and co-organizer of the Porchlight storytelling series.
Kevin Smokler, Frayer, editor of an upcoming book and organizer of The Virtural Book Tour.
Fray Day 8 San Francisco: Featured Performer: Jack Boulware
Posted by Derek on Monday 8 November 04 @ 3:12PM
I'm thrilled to announce that Jack Boulware will be jumping back into the fray for his second time! Jack's Fray Day 6 performance is still a personal favorite.
Jack Boulware is an author and journalist, and co-founder of the Litquake literary festival. He does readings around the city sometimes, like Porch Light and Writers With Drinks. He travels frequently and has written about a wide range of topics, which look pretty weird when lumped together: Pig hunting in Sonoma, bungy jumping in Vegas, UFOs in Nevada, big wave surfing in San Diego, sumo wrestling in Prague, ice golfing in Greenland, boxing in L.A., ghosts in Hawaii, CD piracy in Ukraine, and unexploded ordnance in Iraq.
Fray Day 8 Grand Rapids: Fray Day Grand Rapids Cancelled
Posted by Aaron on Monday 8 November 04 @ 9:13AM
The event is cancelled due to issues with the space and lack of time and resources.
Fray Day 8 Tucson: Tucson Fray Day moved!
Posted by Warner on Thursday 4 November 04 @ 10:13AM
Hi all,
Sorry for the long delay in posting but we've had some scheduling conflicts that we had to resolve. FD 8 for Tucson is still on but we've had to move it to the later date.
Currently we are planning on Saturday Dec. 4th, but that may move. We are still looking for a venue and plan on having a volunteers meeting next week. If you are interested in helping out send a message to warner@tucsonunderground.com .
Thanks All! I hope that this will be a good FD for Tucson!
-warner
Fray Day 8 Grand Rapids: New Venue
Posted by Aaron on Wednesday 3 November 04 @ 1:10PM
We have a new venue:
14 Weston (behind the UICA)
Fray Day 8 Fredericksburg: Venue Finalized!
Posted by Fowlkes on Monday 1 November 04 @ 4:10PM
Fray Day 8 Fredericksburg will take place in Combs Hall, room 111.
Stay tuned for further details!