Event News
Fray 7 Tucson Lineup
Posted by Cia on Saturday 4 October 03 @ 12:53PM
Emcees Cia Romano & Diane Bombshelter
7:01 DJ Chooch from AZSession Spins Downtempo
7:28 Tom Walbank, blues man
7:35 Maggie Golston, writer, poet, force of nature
7:42 Jae Sutherland, fashionatrix psychologist
7:49 Sean Fitzpatrick, journalist and crusader
8:06 Vee Phillips, psychic and truthteller
8:13 Cleopache, poet slammer
8:20 DJ Emmfour Spins Drum & Bass
8:27 Regina Kelly, crusader and writer
8:34 Cia Romano, Web geek and catalyst
8:41 Matt Elliott, chameleon artist
8:49 Jef Hamby, diatribist with humor
8:56 Kim aka Stella, outrageous but adorable
8:57 Open Mic
Afterparty: DJ Madrid Spins House & AZSessions Special Guests Spin 'til Close
Fray Tucson Listed in Club Crawl Events
Posted by Cia on Saturday 4 October 03 @ 12:44PM
Biblio, our elegant little downtown Tucson venue, is conveniently located in the hypocenter of Club Crawl, the twice-annual melée featuring 100 bands in 20 venues or some such. Last year they sold 7,500 wristbands. Either we'll get great walk-in traffic, or we'll barricade the doors! Besides, we have AZSessions and Tom Walbank as special musical guests. HA!
For a Club Crawl schedule see KFMA's Web chart. Biblio is listed in the All-Ages section.
Fray 7 Tucson Poster dl!
Posted by Cia on Thursday 25 September 03 @ 6:27PM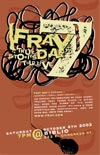 Derek suggested we share our poster by Bradley Zimmerman! You can download the pdf (328k) and print one for yourself (you'll need Acrobat Reader). And, as long as you're at it, print a few for your local hangouts. Thanks for helping to spread the word!
Fray Volunteers Meet
Posted by Cia on Monday 22 September 03 @ 10:04PM
Meet at Biblio Tuesday eve at 7 to finalize plans for Fray Tucson! We heard that Al Foul may come tell a story before swaggering out to play the Crawl. And psychic Vee Phillips will be joining the Fray as well. Warner said "message in a bottle," so we will be providing the means for people to create those, and the means to scatter them to the winds.
Fray Tucson featured performers
Posted by Cia on Thursday 18 September 03 @ 6:37PM
Annoucing some of our featured performers: Emcee Diane Bombshelter, Maggie Golston, Jef Hamby, Drew Burke, Kim Beth, Regina Kelly, Sean Fitzpatrick, Jae Sutherland, Cia Romano, and a special performance by Tom Walbank. Special (returning) musical guests AZSessions, featuring Chooch, Madrid, and emmfour. Join us!
Tucson VENUE/DATE CHANGE
Posted by Cia on Tuesday 26 August 03 @ 7:26PM
Poet, writer, and kickass storyteller Maggie Golston has generously offered her gem of a bookstore, Biblio, for Saturday October 4 so we have taken her up on it! Join us at 7 pm on October 4 at Biblio (at 222 E. Congress between 5th and 6th Avenues), with AZSessions kicking off a spin at 7 and featured performers starting at 8. We hear there may be storytelling musical performances by local legends... Blame it on the torrential monsoon outside that blew the power at Biblio, but we had a great meeting that was so out-of-the-box it was, well, orbital...
Continue reading "Tucson VENUE/DATE CHANGE" »
Venue and performer news!
Posted by Cia on Monday 7 July 03 @ 1:43PM
We're pleased to welcome back all of last year's performers and crew (just to name a few: Maggie Golston, Drew Burke, Bradley Zimmerman), and our co-conspirators: Intrepid DJ/Emcee Bombshelter and KXCI community radio, and cutting-edge DJs/electronica artists AZSessions. We'll be promoting the event heavily via our Tucson Underground Web site meet Zoe (and me). All of us are committed to community -- Fray rocks!
Tucson Venue Announcement
Posted by Zoe on Monday 23 June 03 @ 5:05PM
Hello all! The Tucson crew is bringing Fray Day back to the Hotel Congress' Banquet Room on Sunday, October 5th (see update). More to come...