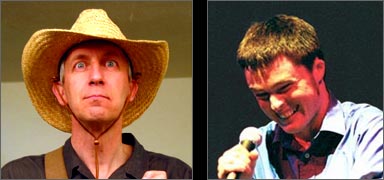 What do these two gentlemen have in common, besides extremely enigmatic facial expressions? They'll both be featured performers at Fray Cafe Cardiff!
Daniel Meadows (left) is a digital storyteller, photographer and teacher. He lectures in new media at the Centre for Journalism Studies, Cardiff University. He is currently on full-time secondment at BBC Cymru Wales, developing Digital Storytelling for broadcast television in the award-winning Capture Wales project.
Hailing from Dublin, Ireland, Tom Cosgrave (right) has traveled to San Francisco to perform at two Fray Days. The first story was about having good craic (it's an Irish thing), and the second story was about buying porn. This time, Tom will be a featured performer, and will talk about the time he met The Ignoramus. Tom runs Dublin Stories and its parent site The City Stories Project.