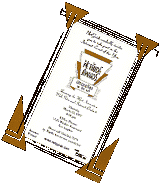 I was watching the lights of the LA freeways zoom by through the passenger side window of the rental car. It was hot. I hate hot nights.
We cranked the stereo up and the windows down and tried to make the best of it.
"Where to?" drue asked.
"Wherever." I said. "Just not home. Not yet."
The whole thing was stupid, I told myself. NetGuide was a stupid magazine. The awards ceremony was stupid. Losing to a football site was stupid.
When we got back to San Francisco, the invitation was still on my bulletin board.
NetGuide cordially invites you to take part in the Internet Event of the Year, The NetGuide Awards for Innovation on the Net, Honoring the Most Innovative Web Sites and Internet Products.
I left it there as a reminder.