I stopped buying LPs and looked for everything on CD.
I went to Aron's on Melrose in L.A. and rummaged through their slim CD supply instead of going through their fantastic used albums and import bins like I used to, finding treasures of my own that other people saw as trash.
I wouldn't buy the new album of my favorite artists unless it was digital. I started bringing in the albums I had purchased for one song only (Pearl Harbor and the Explosions for Driving) and trading the credit for CDs of albums I already had.
My goal was to replace them as they were available, clearing away all the big black platters for shiny silver discs.
Get myself modern.
Digitize.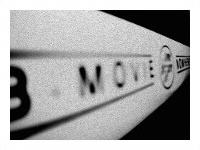 But my favorites were not the big label mainstream albums.
They were Carolyn Mas. Fun Boy Three. Bill Nelson and Lene Lovich and The Boomtown Rats.
They were Yellow Magic Orchestra. Ultravox. Simple Minds.
CDs were being manufactured for the Springsteens and Madonnas.
Chances were I'd have to wait a long time and some of them would never be out.
So I decided to keep my vinyl and the little pops and scratches that became part of the music that I loved - and love.